AWS Architecture Diagram Tool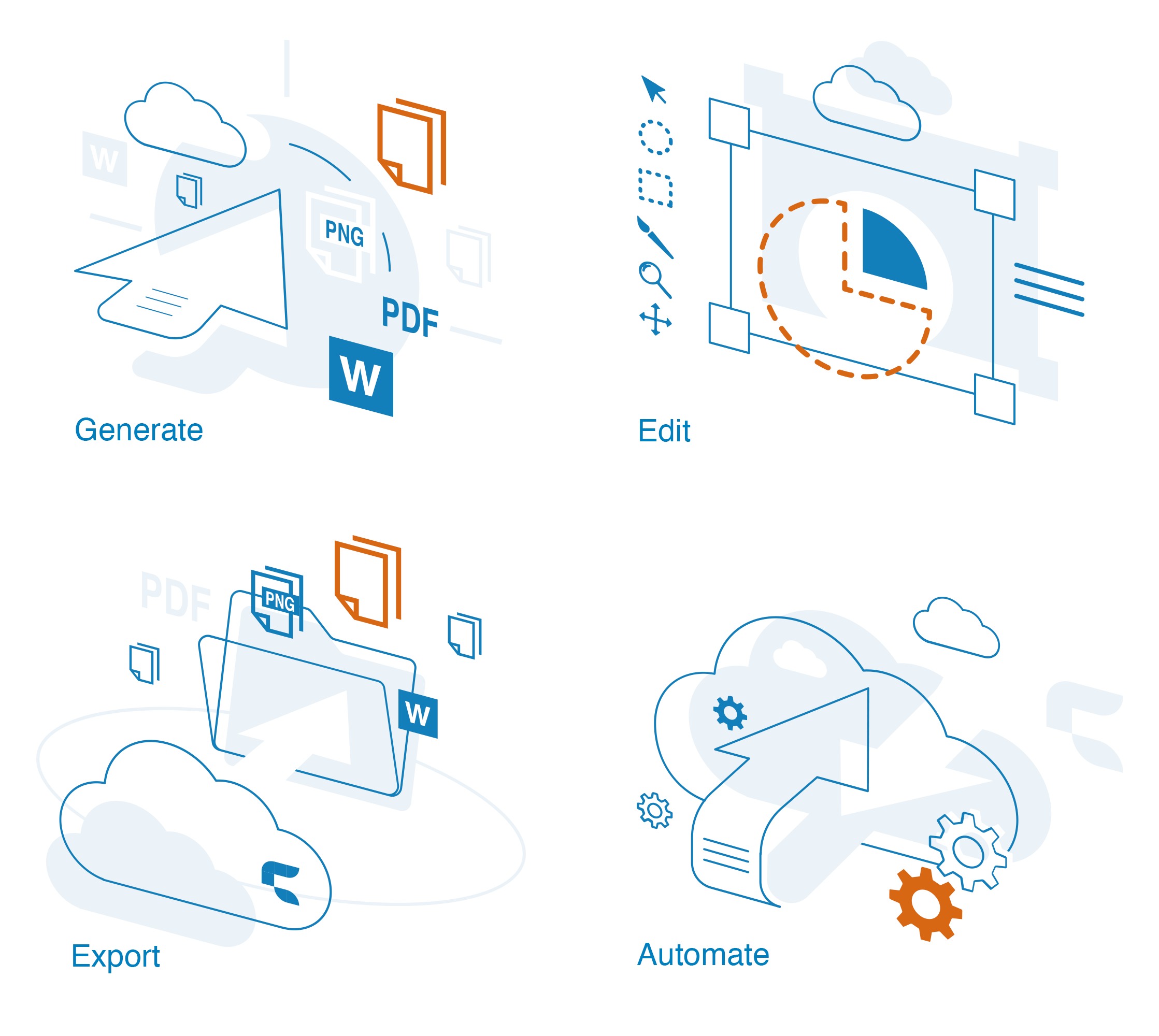 by Cloudviz Team
Drawing accurate and visually appealing AWS architecture diagrams is an essential task for cloud architects and developers. These diagrams serve as blueprints, aiding in planning, communication, and troubleshooting within AWS infrastructures. To simplify and enhance this crucial process, a powerful AWS diagram tool is vital. Enter Cloudviz.io, the ultimate solution for effortlessly creating detailed and professional AWS architecture diagrams. In this article, we will delve into the reasons why Cloudviz.io stands out as the go-to tool for cloud architects, developers, enabling them to generate and create comprehensive AWS diagrams with ease and precision. Improve your AWS diagramming experience and unlock the full potential of your cloud architecture
Essential Features of an AWS Architecture Diagram Tool
A good AWS architecture diagram tool is defined by its ability to create detailed and visually appealing diagrams that accurately represent the AWS network and infrastructure. It should have the capability to automatically generate AWS architecture diagrams, saving time and effort for cloud architects and developers. With the option to update generated diagrams, cloud architects and developers can easily keep their diagrams in sync with the evolving AWS environment.
While autogenerated diagrams can be a time-saving feature, there are instances when manual updates using the diagram editing toolbar are necessary. This functionality allows you to make adjustments and refinements to the autogenerated diagrams, ensuring they accurately represent your AWS architecture. With the flexibility offered by the diagram editing toolbar, you have the control to fine-tune the diagrams to align with specific requirements or changes in your infrastructure, ultimately enhancing the clarity and precision of your AWS architecture documentation.
Furthermore, a comprehensive tool should provide flexible export options, allowing diagrams to be exported as PNG, PDF, SVG, or even compatible with popular diagramming tools like Draw.io / Diagrams.net. This ensures compatibility and enables seamless collaboration with team members or stakeholders.
Another valuable feature to look for is the ability to schedule auto-generation of your diagrams. This functionality allows for regular updates of AWS architecture diagrams, ensuring they always reflect the latest infrastructure changes. By automating this process, cloud architects can focus on other critical tasks, knowing that their diagrams are up to date.
By considering these key features — auto generation, edit generated diagrams, flexible export options, and scheduled auto-generation — a reliable AWS architecture diagram tool, like Cloudviz.io, empowers cloud architects and developers to create, manage, and share comprehensive AWS diagrams with ease and efficiency.
Auto Generate AWS Architecture Diagram
While numerous tools exist for auto generating AWS architecture diagrams, many tend to focus on multiple clouds, diluting their effectiveness for AWS-specific environments. That's where Cloudviz.io shines as a dedicated AWS diagram generator, prioritizing the creation of truly useful and visually appealing AWS architecture diagrams. With its robust features and focus on AWS infrastructure visualization, Cloudviz.io allows you to effortlessly generate accurate and comprehensive AWS architecture diagrams, allowing you to document, analyze, and communicate your AWS network configurations with precision.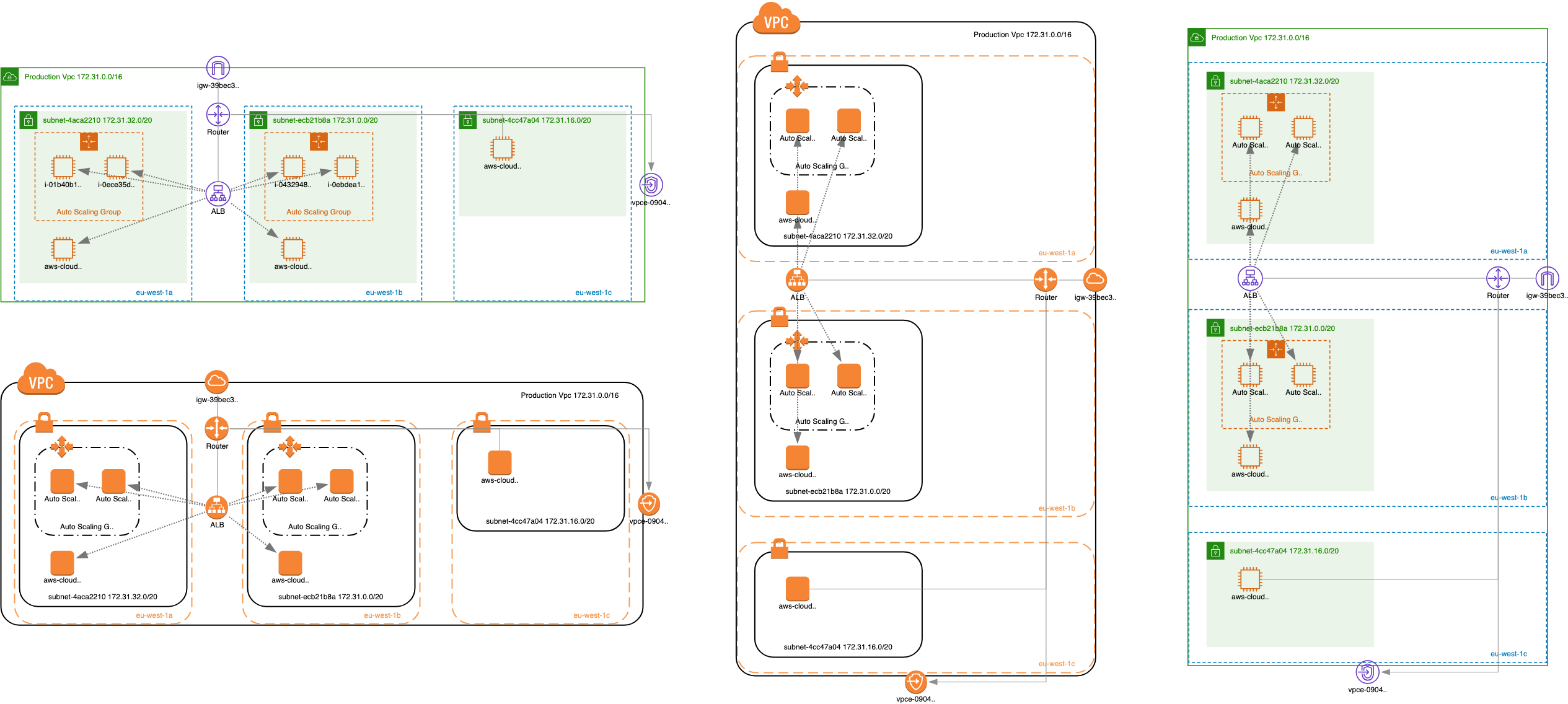 Cloudviz.io simplifies the process of generating AWS architecture diagrams by seamlessly incorporating both old and new icons, ensuring compatibility and flexibility in visual representation:
With the quick view functionality you can swiftly generate various diagram types, including Serverless View, VPC View (AWS network diagram), and Full Account View, to cater to your specific needs

Cloudviz.io offers granular control over diagram generation by allowing you to specify the inclusion of resources, enabling you to focus on the desired level of detail and scope. Leveraging auto suggestion capabilities, the tool intelligently generates diagrams using existing tags, VPC IDs, and other relevant information from your AWS environment, enhancing accuracy and efficiency

In addition to pre-defined default diagram views, Cloudviz.io allows you to effortlessly customize diagram generation settings and style according to your preferences. These personalized configurations can be saved as generation profiles for future use, enabling consistent and streamlined diagram generation
Cloudviz.io enhances your diagramming experience by providing an interactive property view for generated diagrams. Simply click on any element within the diagram, and relevant properties for that specific element will be displayed. Additionally, you can conveniently navigate to your AWS console by clicking on the links within the property view, instantly accessing the corresponding AWS services. This seamless integration between diagram elements and AWS services allows for efficient exploration and management of your AWS environment directly from your diagrams
Create / Edit Generated AWS Diagram
As mentioned previously fully comprehensive AWS architecture diagram tool should include diagram edit functionality.
Cloudviz.io offers you to effortlessly create and edit AWS diagrams, allowing you to visualize your AWS architecture with precision and clarity:
With a range of intuitive diagram toolbar features, you can easily draw AWS diagrams from scratch, using both old and new AWS icons, to accurately represent your AWS environment
Kickstart your diagram generation process by utilizing diagram templates offered by Cloudviz.io. These templates provide a starting point and inspiration, enabling you to quickly generate AWS diagrams that align with your specific needs
Cloudviz.io simplifies the creation of AWS network diagrams, VPC diagrams, serverless diagrams, and various other AWS diagram types. Simply access the synced resources from the left-sidebar menu and effortlessly drag and drop them onto the canvas to visualize your AWS environment
Not only can you create diagrams from scratch, but Cloudviz.io also allows you to edit auto-generated AWS diagrams. This means you have the flexibility to fine-tune and refine your diagrams to accurately reflect changes in your AWS architecture when manual intervention needed
Export AWS Diagram
We understand that there are use-cases when you may need to utilize specific diagramming tools, such as Draw.io / diagrams.net, within your organization or for collaboration purposes. That's why we provide seamless export capabilities to ensure your diagrams can be easily integrated into draw.io / diagrams.net.
With Cloudviz.io, you have the flexibility to export your cloud environment visualization in a variety of formats, including PNG, SVG, PDF, WORD, JSON, and Draw.io. This extensive range of export options allows you to choose the format that best suits your needs and aligns with your organization's diagramming requirements.
Experience the convenience of exporting your AWS diagrams with Cloudviz.io, empowering you to collaborate, edit, and seamlessly integrate your visualizations into your preferred tools and platforms for effective documentation and communication of your AWS architecture.
Automated AWS Diagram Generation

Cloudviz.io offers the convenience of scheduling auto-generation of AWS diagrams and documentation for your AWS environments through automation profiles. By creating these profiles, you can automate the process of generating diagrams at regular intervals, ensuring that you and your team always have up-to-date visual representations of your AWS environment. You can then embed the generated diagrams into various platforms such as Confluence, wikis, or different dashboards.
Automating the diagram generation process with Cloudviz.io can bring significant cost-saving benefits by uncovering unnecessary resources within your AWS environment. This includes identifying and visualizing resources like EC2 instances, database instances, and complete development or test environments that may be consuming resources and incurring costs without being actively utilized. By automating the discovery of these idle or redundant resources, Cloudviz.io can give you way to optimize your AWS infrastructure, eliminate unnecessary expenses, and streamline resource allocation for maximum efficiency.